---
Und wieder etwas neues für euch - CTC. Jessie Holton -KLICK- lädt jede Woche ein zu einem bestimmten Thema Karten zu basteln. Diesmal zu unter dem Motto "Tiere". Daraus ist bei mir eine Weihnachtskarte vom Tisch gehüpft.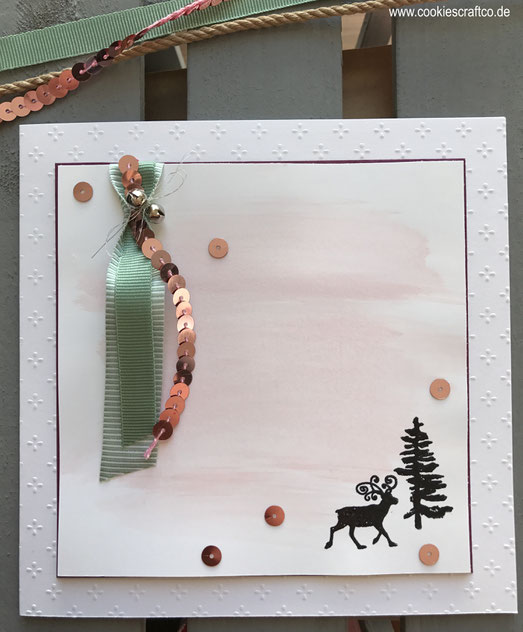 Again something new for you - CTC. Jessie Holton -KLICK- invites every week to create specific theme cards. This week it is a Animals/Pet Theme Challenge and I created a Christmas card. 
Diese drei Farben habe ich mir als Vorgabe herausgesucht und finde, dass sie perfekt zu den kühlen Weihnachtsfarben passen. Und so wurde mit etwas Aquarelltechnik und Bändern der Hintergrund gestaltet. Sowohl Elch als auch Tannenbaum wurden heiß embossed. So wirkt es eleganter und gibt noch einen schönen schimmernden Effekt.  
I chose these three colors and I think they are perfect as coolish Christmas colors. And so the background was designed with a watercolor technique and ribbons. The moose and the fir tree were both hot embossed. It looks more elegant and gives a beautiful shimmering effect.
Ich hoffe euch gefällt meine Interpretation von Weihnachten.
I hope you enjoy my Christmas interpretation.
Genießt den Tag und viele liebe Grüße
Martha