---
Erinnerungen werden noch einmal wach und man schwelgt noch in den Erinnerungen des Jahres. Doch der Neuanfang steht schon vor der Tür - Silvester und damit auch neue Herausforderungen und Freuden. 
Once more we are still reveling in the memories of the year. But a new beginning is already on the doorstep - New Year's Eve with new challenges and pleasures.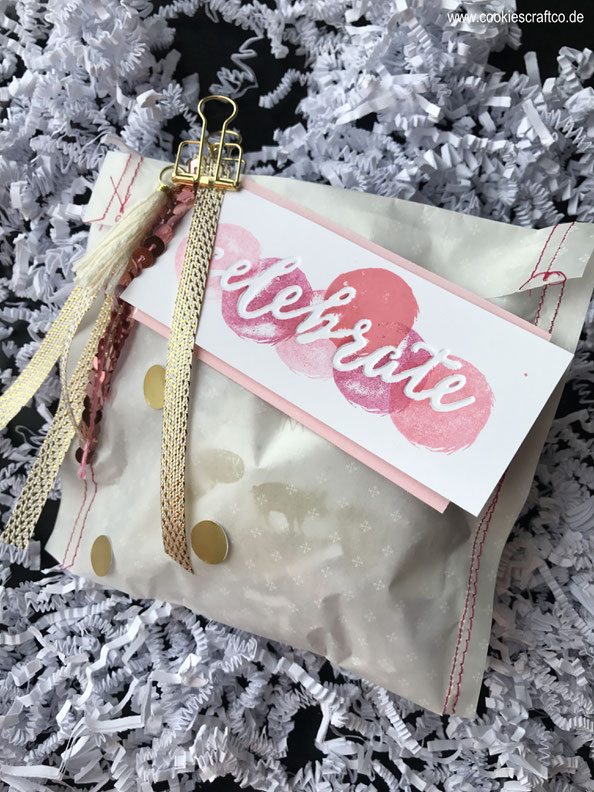 Diesmal beginne ich auch mit einem "Danke", dass ihr zu meinem Blogbeitrag zum "Stampin' Up! Blog Highlight" von Kylie Bertucci vorbeischaut. Ihr könnt bzw. ich fände es MEGA toll, wenn ihr für mein Projekt, also die Silvester-Glückskeks-Verpackung abstimmen würdet. HIER könnt ihr ab dem 28.12., 22 Uhr eine Woche lang abstimmen. Und sollte ich zu den ersten zehn gehören, so kann ich im Januar an einem Internationalen Blog Hop teilnehmen. Das wäre ein super Beginn für das kommende Jahr, oder?
Thanks for coming to my blog today! We are being highlighted internationally by Kylie Bertucci and you are able to VOTE for my project. The top ten winners will get to be part of an international blog hop so please vote for my project. You can do that here -HERE-. 
Our theme for this highlight is encouragement as we all need a kind word said to us to build us up.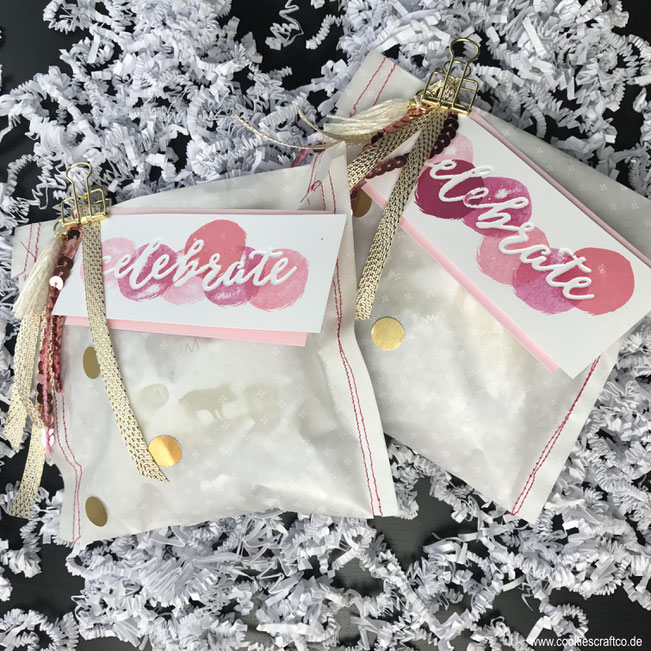 Die Geschenktüte ist sehr schnell gemacht und dennoch so eine tolle, kleine Geschenkidee. Wie ich sie gemacht habe könnt ihr im Video sehen. Hier nur schon einmal ein paar Eckdaten zu den verwendeten Produkten und Größen.
Pergaminblätter Liebe Grüße (142734)
Kreativ-Set Accessoires Cupcakes und Karussell (142767)
Goldfarbene Klemmen (141673)
Paillettenband Kirschblüte (138400)
Besonderes Designerpapier Pink mit Pep (141648)
Farbkarton A4 Flüsterweiss  (106549)
Farbkarton A4 Zartrosa (116203)
Stempelset "Double Take" (142908)

Celebrations Duo Textures Impressions Embossing Folders (142760)
Metallic-Geschenkband im Kombipack 3/8'' (143601) (Sale-A-Bration)
Den Farbkarton habe ich für Flüsterweiß in 4 1/2'' x 1 7/8'' und Zartrosa in 4'' x 2 1/8'' zu geschnitten.
Sämtliche Produkte könnt ihr natürlich bei mir ab dem 4. Januar bestellen.
The gift box is made very quickly and it is a great little gift idea. In the video you can see how I did the "box". I used the following products and measurements. 
Sending Love Glassine Sheets (142734)
Cupcakes & Carousels Embellishment Kit (142767)
Gold Binder Clips (141673)
Sequin Trim Blushing Bride (138400)
Pop of Pink Specialty Designer Series Paper (141648)
A4 Cardstock Whisper White (106549)
A4 Cardstock Pink Pirouette (116203)
Stamp Set "Double Take" (142908)
Celebrations Duo Textures Impressions Embossing Folders (142760)
Metallic ribbon combo pack 3/8'' (143601) (Sale-A-Bration)
Whisper White in 4 1/2'' x 1 7/8'' and Pink Pirouette in 4'' x 2 1/8''.
I thought I would mix up a few of our new Occasions Catalogue stamp sets that are available for purchase on the 4th January 2017.
Vielen lieben Dank, dass ihr meinen Blog besucht habt. Und nicht vergessen -HIER- für mein Projekt zu stimmen :) 
Thanks for visiting my blog today make sure you head over to Kylie's blog -HERE- to vote for my project. I would love to be chosen to do an international blog hop.
Genießt den Tag und viele liebe Grüße
Martha