---
Bei so vielen neuen tollen Produkten weiß ich gar nicht wo ich anfangen soll, damit ihr auch alle sehen könnt. Mir fällt es selbst heute noch teilweise schwer genau zu wissen was man alles mit Stempelsets oder dergleichen machen kann. Aber wenn ich sehe wie andere die Produkte einsetzen, fangen meine grauen Zellen an zu arbeiten und eine Idee folgt der nächsten. Und vielleicht geht es euch auch so und ihr findet schöne Ideen und wollt dann auch das ein oder andere Produkt ;)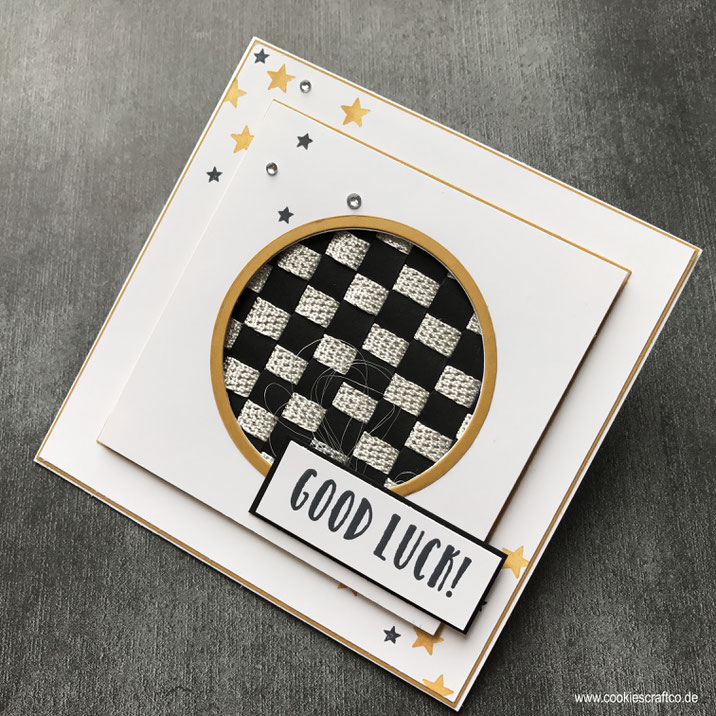 So many new great products and I don't know where to start to show you all of them. For me it is sometimes still  very difficult to know what to do with the stamp sets. But when I see how other use the products, my brain starts to work and one idea follows the next one. And maybe you need also ideas to order these beautiful products :)
Das Global Design Project-Team gestaltet jede Woche Karten, Verpackungen etc. zu einem bestimmten Thema wie Farbkombination oder Sketch. Gerne könnt ihr -HIER- einfach mal schauen. 
Every week, the Global Design Project team creates cards, boxes, etc. on a specific theme such as a color combination or a sketch. Have a look -HERE-. 
In der Mitte findet ihr einen gewebten Kreis aus dem Metallic-Geschenkband im Kombipack (143601) aus der Sale-A-Bration. Wie früher in der Schule habe ich das Band durch schwarzen Cardstock gewebt. Der Rest sind einfach paar Lagen an Papier in Flüsterweiß und Ockerbraun und einem "Good Luck!" aus dem Stempelset "Lucky Elephant" (142939). Ich hoffe die etwas verrückte Idee gefällt euch?!
In the middle you find a woven circle with the Metallic Ribbon Combo Pack (143601) from the Sale-A-Bration. Like years ago in school I wove the ribbon through black cardstock. The rest are just a few layers of paper in Whisper White and Ocher Brown and a "Good Luck!" from the stamp set "Lucky Elephant" (142939). I hope you like the crazy idea?!
Genießt den Tag und viele liebe Grüße
Martha