---
Erinnerst ihr euch noch als ihr mit der Schule, Ausbildung oder Studium fertig geworden seid? Das war ein toller Moment und ich habe ihn sehr genossen. Und bei einem solchen tollen Augenblick durfte ich jetzt wieder dabei sein. Nicht ich war die Hauptperson, aber mein Bruder auf den ich ganz stolz bin.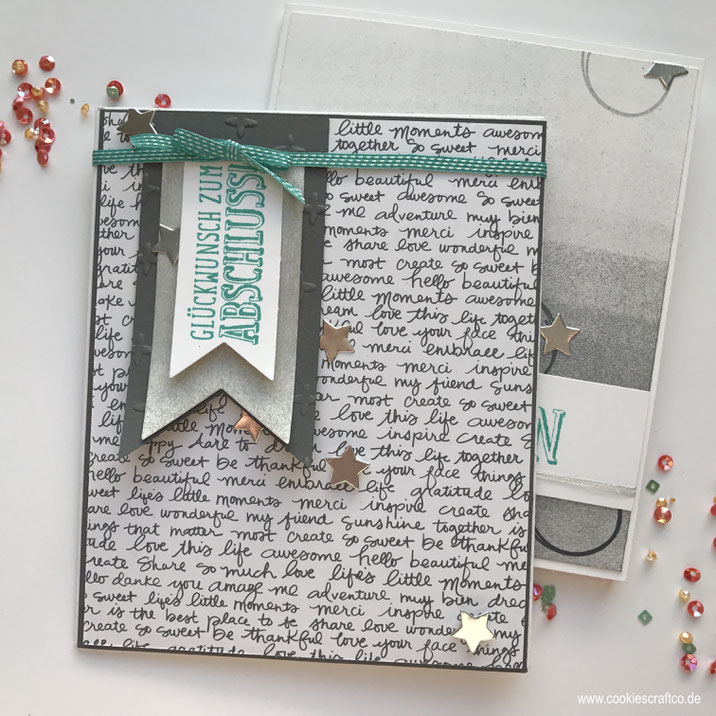 Do you remember your graduation from school, education or study? It was a great moment and I enjoyed it very much. My brother graduated, too, and I am quite proud.
Das Global Design Project-Team gestaltet jede Woche Karten, Verpackungen etc. zu einem bestimmten Thema wie Farbkombination oder Sketch. Gerne könnt ihr -HIER- einfach mal schauen. 
Every week, the Global Design Project team creates cards, boxes, etc. on a specific theme such as a color combination or a sketch. Have a look -HERE-. 
Für diesen Anlass gab es eine Glückwunschkarte und einen Gutschein zur Erfüllung der kleinen und großen Wünsche. Die Farben sind sehr dezent und Sterne passen ja zu dem Anlass.
For this occasion he got a congratulations card and a voucher to fulfill his small and big wishes. The colors are very discreet and stars fit for the occasion.
Genießt den Tag und viele liebe Grüße
Martha