---
Hallo Montag, ach wie schön du doch bist. Sonst gehört der Montag nicht zu meinen Lieblingen, aber wenn man Urlaub hat, sieht natürlich alles ganz anders aus. Und deswegen bin ich heute auch schon ganz früh beim neuen Global Design Project Thema dabei.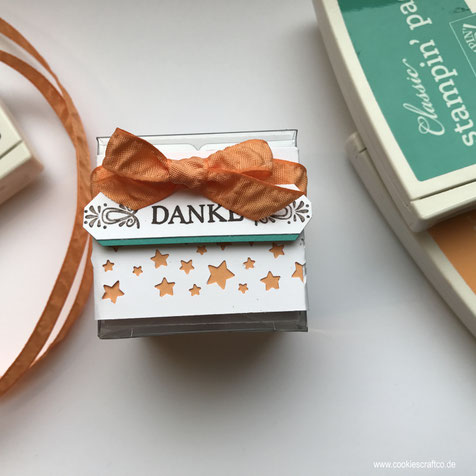 Hello Monday, a lovely day. Otherwise Monday is not one of my favorites, but I have vacations and everything looks completely different. And that is why I could play along withe the new Global Design Project theme. 
Das Global Design Project-Team gestaltet jede Woche Karten, Verpackungen etc. zu einem bestimmten Thema wie Farbkombination oder Sketch. Gerne könnt ihr -HIER- einfach mal schauen. 
Every week, the Global Design Project team creates cards, boxes, etc. on a specific theme such as a color combination or a sketch. Have a look -HERE-. 
Diese kleine Verpackung geht heute noch an eine Freundin. Auch wenn ich selbst aktuell nichts an Süßigkeiten esse, kann ich sie ja verschenken. Wir werden nämlich heute noch zum Einrichtungshaus fahren und ein paar Regale kaufen. Ein Bastelzimmer muss nämlich langsam her und so etwas mache ich dann meist ungeplant. Aber Hauptsache jetzt :) Deswegen miste ich gründlich aus um Platz für Neues zu schaffen. 
Ihr mögt die Verpackung? Ihr könnt eine solche Box schon bald euer eigen nennen. Schaut morgen einfach vorbei, dann erfahrt ihr mehr!
This small box still goes to a friend. Even if I do not eat sweets, I can give them to friends. We will drive to IKEA today and buy a few shelves. I need a crafting room - NOW :) That is the reason why I clean up my room. 
You like the small box? You can call such a box your own. Just take a look tomorrow on my blog.
Genießt den Tag und viele liebe Grüße
Martha