---
Wenn ihr euch so in der Bastelwelt umschaut gibt es selten wirkliche Männerprodukte. Und dich denke jetzt nicht an Baumärkte, sondern wirklich an das klassische Basteln. Deswegen haben wir uns diesmal das Thema "Maskulin" ausgesucht.
If you have a look on crafting. Do you find masculine products? And I don't mean hardware stores. That is the reason why we chose the theme "Masculine" this time.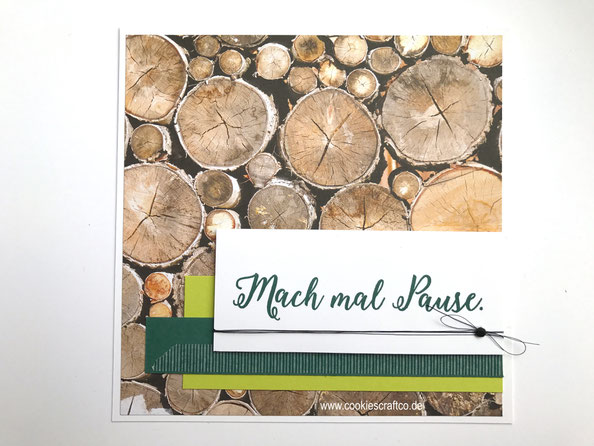 Diesmal beginne ich auch mit einem "Danke", dass ihr zu meinem Blogbeitrag zum "Stampin' Up! Blog Highlight" von Kylie Bertucci vorbeischaut. Ihr könnt bzw. ich fände es MEGA toll, wenn ihr für mein Projekt abstimmen würdet. HIER könnt ihr ab dem 17.05. eine Woche lang abstimmen. Und sollte ich zu den ersten zehn gehören, so kann ich im an einem Internationalen Blog Hop teilnehmen. 
Thanks for coming to my blog today! We are being highlighted internationally by Kylie Bertucci and you are able to VOTE for my project. The top ten winners will get to be part of an international blog hop so please vote for my project. You can do that here -HERE-. 
Our theme for this highlight is Get Well soon - What a wonderful way to cheer someone up when they are feeling down.
Die Karte ist sehr schnell gemacht und dennoch so eine tolle, kleine Geschenkidee. Ihr braucht nur das neue Designerpapier und den neuen Farbkarton in den neuen InColor.
The card is made very quickly and it is a great little gift idea. You need the new DSP and cardstock in the new InColors.
Vielen lieben Dank, dass ihr meinen Blog besucht habt. Und nicht vergessen -HIER- für mein Projekt zu stimmen :) 
Thanks for visiting my blog today make sure you head over to Kylie's blog -HERE- to vote for my project. I would love to be chosen to do an international blog hop.
Genießt den Tag und viele liebe Grüße
Martha