---
So ein gutes Gefühl wieder im Rhythmus des Global Design Projects zu sein. Heute auch mit toller Farbkombination. Was soll ich sagen, schwarz ist dabei. Dann kann beim Rest kommen was mag :D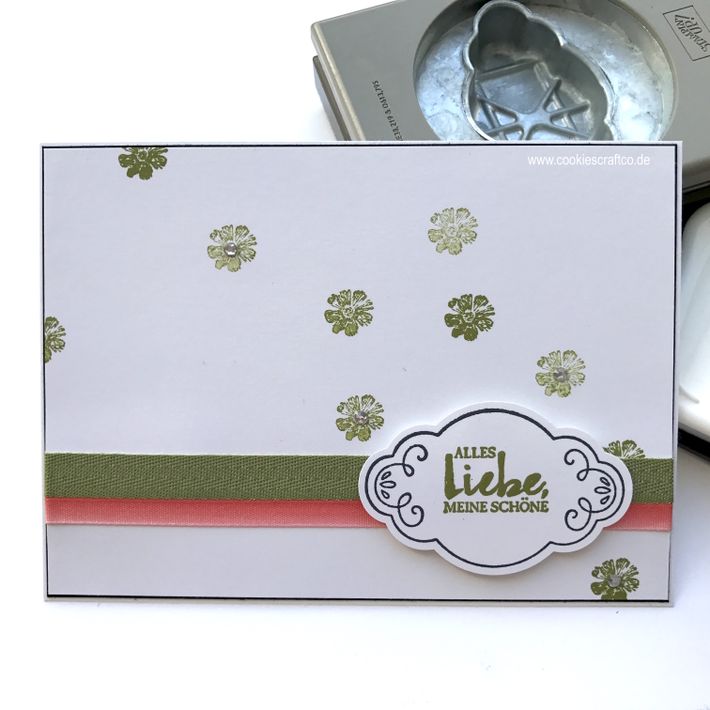 A great feeling to be in accordance with the Global Design Project. And I love the color combination. I mean - black - my favorite color :D 
Das Global Design Project-Team gestaltet jede Woche Karten, Verpackungen etc. zu einem bestimmten Thema wie Farbkombination oder Sketch. Gerne könnt ihr -HIER- einfach mal schauen. 
Every week, the Global Design Project team creates cards, boxes, etc. on a specific theme such as a color combination or a sketch. Have a look -HERE-.  
Ich habe für den Hintergrund das Stempelset "Touches of Texture" verwendet. Naja nur eine Blüte aber die in unterschiedlichen Farbintensitäten. Also nicht jede mal frische Farbe aufgenommen. Das Etikett kommt im neuen Stempelset "Quartett für Etikett" daher. Natürlich mit passender Stanze. Die Bänder runden das Gesamtbild ab. Ich hoffe die Karte gefällt euch :)
I used "Touches of Texture" for the background. To create the differences in intensity I stamped multiple times without put new ink on the stamp. The tag is a new stamp set with a corresponding punch. The ribbons complete the whole card.
I hope you like my card :)
And I am so happy because I am one of the three winners for the last challenge -HERE-. An amazing day for me :)
Genießt den Tag und viele liebe Grüße
Martha