---
Baby, so ein tolles und süßes Thema. Vor allem, wenn es im Leben liebe Menschen gibt, denen man gerade zu diesem wundervollen Ereignis gratulieren kann. So habe ich umso lieber und mit noch mehr Freude an der Karte gebastelt. Die Karte ist sehr schnell gemacht und dennoch so eine tolle, kleine Geschenkidee. 
Baby is such a cute theme. Of course more if friends get a sweet little one. I had so mich fun to create a baby card. The card is made very quickly and it is a great little gift idea.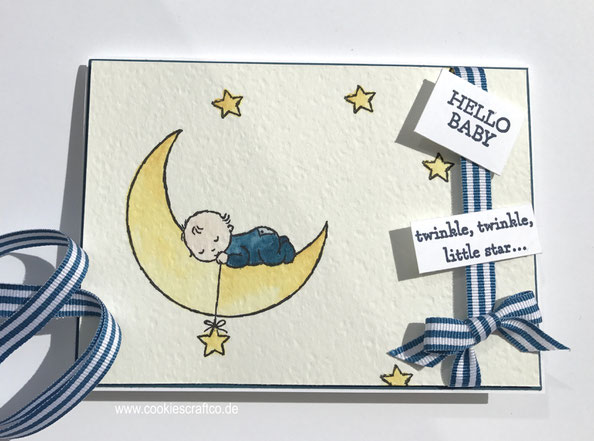 Diesmal beginne ich auch mit einem "Danke", dass ihr zu meinem Blogbeitrag zum "Stampin' Up! Blog Highlight" von Kylie Bertucci vorbeischaut. Ihr könnt bzw. ich fände es MEGA toll, wenn ihr für mein Projekt abstimmen würdet. HIER könnt ihr ab dem 14.06. eine Woche lang abstimmen. Und sollte ich zu den ersten zehn gehören, so kann ich im an einem Internationalen Blog Hop teilnehmen. 
Thanks for coming to my blog today! We are being highlighted internationally by Kylie Bertucci and you are able to VOTE for my project. The top ten winners will get to be part of an international blog hop so please vote for my project. You can do that here -HERE-. 
Vielen lieben Dank, dass ihr meinen Blog besucht habt. Und nicht vergessen -HIER- für mein Projekt zu stimmen :) 
Thanks for visiting my blog today make sure you head over to Kylie's blog -HERE- to vote for my project. I would love to be chosen to do an international blog hop.
Genießt den Tag und viele liebe Grüße
Martha