---
Immer wieder montags ist Zeit für das Global Design Project und diesmal mit neuem Sketch. Und ich kann nicht leugnen, dass ich süchtig nach Limette bin. Es geht einfach nicht ohne. Natürlich nicht auch ohne schwarz. Aber so kennt ihr mich sicherlich auch und seid nicht verwundert :)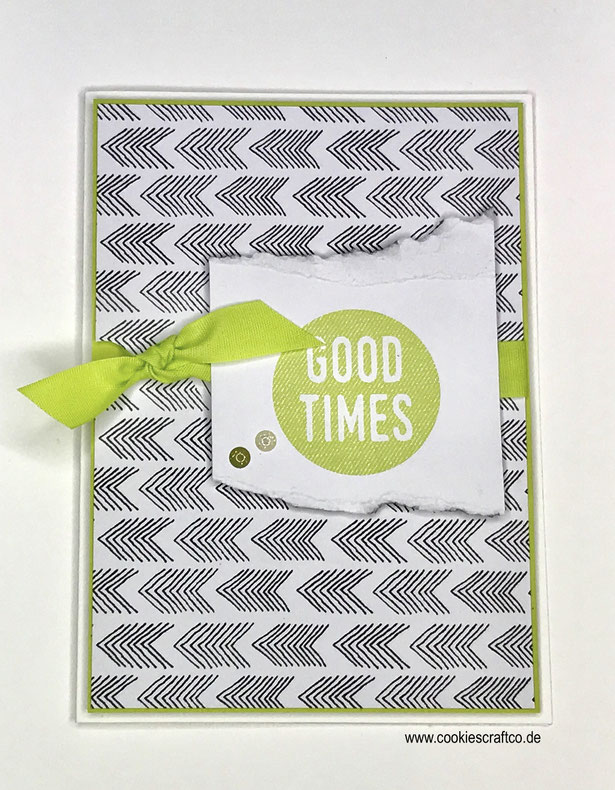 Every Monday it is time for the Global Design Project and this time with a new sketch. And I am addicted to Lemon Lime Twist and Black. But I think you know me only with the color combination of Black :)
Das Global Design Project-Team gestaltet jede Woche Karten, Verpackungen etc. zu einem bestimmten Thema wie Farbkombination oder Sketch. Gerne könnt ihr -HIER- einfach mal schauen. 
Every week, the Global Design Project team creates cards, boxes, etc. on a specific theme such as a color combination or a sketch. Have a look -HERE-.  
Für die Karte habe ich zum Kartenset aus Memories & More "Perfekter Tag" gegriffen. Ich finde es ist ein schönes Einsteigerset, denn bis auf die Karten habe ich nicht viel mehr gebraucht. Wenn ihr dazu noch mehr Ideen haben wollt, dann schaut morgen hier auf meinem Blog ab 19 Uhr vorbei und seht was wir euch beim Blog Hop zu diesem Kartenset vorbereitet haben.
I used only the Memories & More card set "Perfect Day" for this card. It is perfect to start crafting because you don't need many stuff to start.If you want to see further ideas for this card set, have a look on my blog here, tomorrow at 7pm European Time. We will show you in our blog hop a lot of beautiful ideas. 
Genießt den Tag und viele liebe Grüße
Martha