---
Welcome on my blog. Sara Levin has asked me to be a guest designer on the Stamping Sunday Blog Hop today, and of course I'm delighted to be asked! So thanks for stopping by my blog today. Make sure to hop all the way through the hop so you can find lots of inspiring projects using the Fabulous Foil Designer Acetate. It is no secret that I'm in LOVE with this stuff, so I was happy to hear that this is what we are featuring on the hop today!  
The reason why I love the foil? One the one hand side the pattern is lovely and on the other one the color combination of gold and silver is fantastic. I used for both projects the silver side, but it is up to you to use the other side :)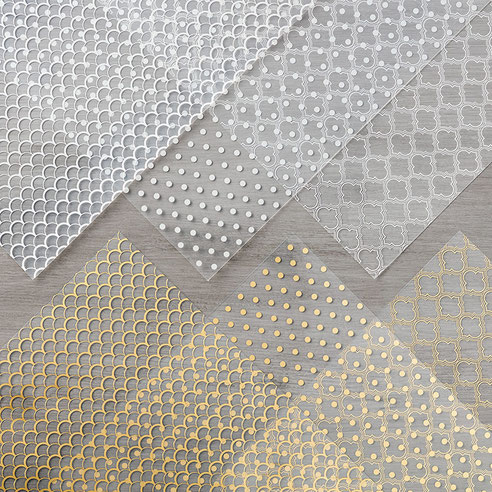 My first project is a envelopment. I did it a little bit thicker with the punch board for envelopments. So it is something in-between an envelope and a box :) Inside you find tissue paper to fill it out and to have a contrast for the foil. I created the box for a birthday and I put an envelope with birthday wishes into it. Hopefully you like my first project.
The second project is a decoration for my craft room. I started in the last weeks or maybe months :) to clean up my workroom. The aim was to have a craft room and to move all the stuff from my living room to the craft room. Most of the work is done and I am very happy of this new room. But I missed a decoration on my door and I was inspired by Katharina Baranski -HERE- for a door decoration. The foil is perfect for the background because it is more solid than cardstock. And it is so easy to say "Hello" to your guests.
Isn't the foil a blast? There are so many gorgeous and fun ways to use it.
Make sure to follow the blog hop all the way around! Thanks to the Stamping Sunday crew for inviting me along!