---
Welcome on my blog. Sara Levin has asked me to join the Stamping Sunday Blog Hop, and of course I'm delighted to be asked! So thanks for stopping by my blog today. Make sure to hop all the way through the hop so you can find lots of inspiring projects using the "Stampin' Blends". It is no secret that I'm in LOVE with this stuff, so I was happy to hear that this is what we are featuring on the hop today!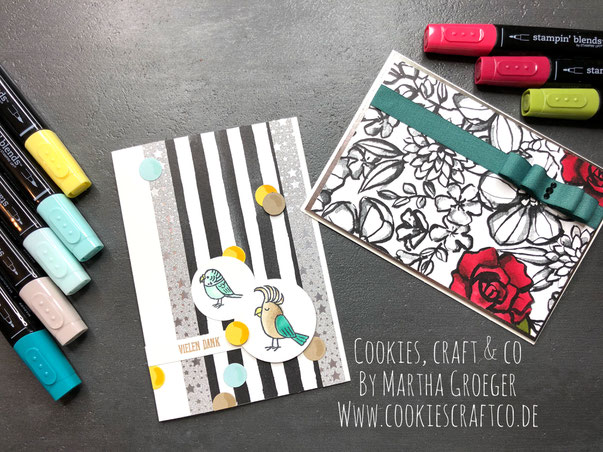 It´s time for a new blog hop :) And I was so excited about the theme and the Stampin' Blends. It´s one of my first blog hops showing only cards. Maybe you know me and I love boxes :) So I decided to show you two different kinds of cards - a funny one and a elegant one.
Here we go with the first card. O love all these birds. Each is so different and you can use the Stampin' Blends for coloring. You need only to add a little bit of washi tape and DSP. Do you like it?
Roses and flowers are so elegant. I used new DSp from the upcoming catalog. You can put color on DSP, too. The bow is the next highlight on this card. I think I will use the card for a next birthday :)
Do you love the Stampin' Blends, too? There are so many gorgeous and fun ways to use it.
Make sure to follow the blog hop all the way around! Thanks to the Stamping Sunday crew for inviting me along!
Do you like the new DSP and want to see all new DSP? Have a look -HERE- for my upcoming papershare. 
Thank you for visiting my blog. Have a nice day.
Lovely greetings,
Martha