---
Willkommen auf meinem Blog und zu einer kleinen kreativen Reise. Meiner letzten Reise mit euch hier auf meinem Blog als Teil des Artisan Design Teams 2020. Jede Reise hat auch ein Ende und dieses ist leider schon heute. 12 Monate voller Spannung und Kreativität. Aber auch vielen neuen Menschen die ich kennenlernen durfte. Ich bin sehr dankbar dafür. Und nun verfasse ich diesen Blogbeitrag mit einigen kleinen Tränchen.
Welcome to my blog and to a little creative journey. My last journey with you here on my blog as part of the Artisan Design Team 2020. Every journey also has an end and this one is unfortunately already today. 12 months full of excitement and creativity. But also many new people I was allowed to meet. I am very grateful for that. And now I am writing this blog post with some little tears.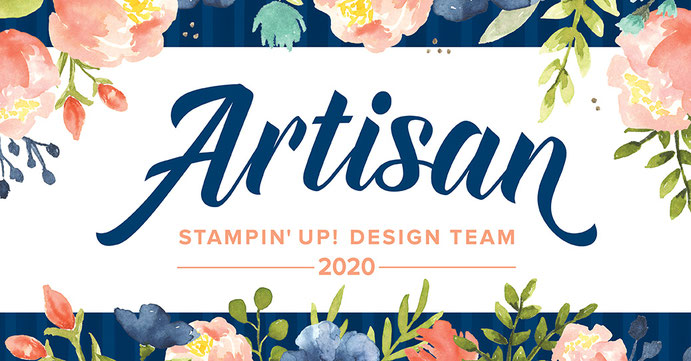 Zum Schluss möchte ich euch das Produktpaket "Posted For You" zeigen. Oder besser gesagt, eine Kartenidee die besonders leicht sein sollte. Etwas leichtes und filigranes zum Ende. So ist der Briefmarkenstempel aussen und innen ausgeschnitten. Die Blume schaut hindurch und ist koloriert. Genauso wie der Hintergrund in einem sanften Blauton. 
Finally, I would like to show you the bundle "Posted For You". Or rather, a card idea that should be particularly light. Something light and delicate to the end. So the stamp is cut out outside and inside. The flower looks through it and is colored. Just like the background in a soft blue tone.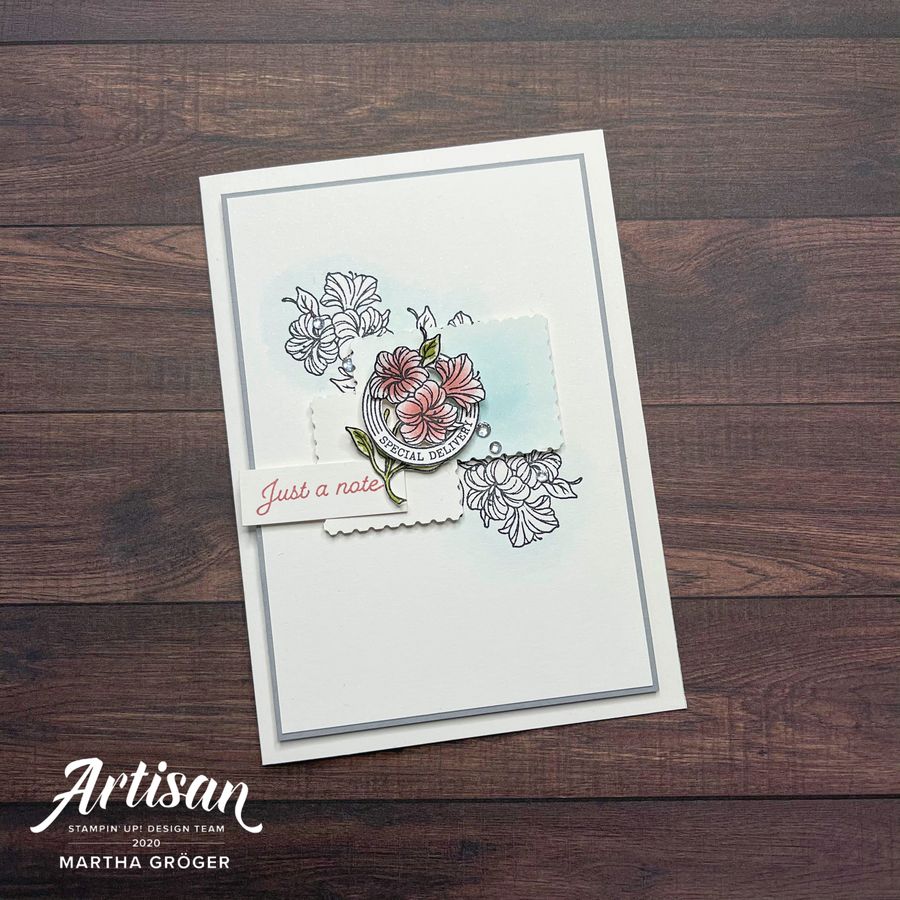 Beim Kolorieren kann ich entspannen und vergesse die Zeit. Nehmt euch mal eine kleine Auszeit und versucht auch mal kleine Bilder zu kolorieren. Jeder kann es. Und so bekommen die Blüten und Blätter noch eine besondere Tiefe.
When coloring I can relax and forget the time. Take a little time out and try coloring even small images. Anyone can do it. And so the flowers and leaves still get a special depth.
Ich bin mir sicher, ihr wollt auch all die anderen neuen Produkte sehen und was die andern Design Team Mitglieder gebastelt haben. Dabei kann ich euch jetzt schon versprechen, dass die Projekte einfach "amazing" sind. Am besten ihr klickt direkt auf den Button um zum Beitrag von Martin Stone zu gelangen.
I'm sure you also want to see all the other new products and what the other design team members have made. I can promise you right now that the projects are simply amazing. Just click on the button to go directly to Martin Stone's blog post.
Wir haben aber auch eine Liste mit allen aus dem Artisan Design Team, so dass ihr auch hier einfach zu den jeweiligen Blogbeiträgen gelangt.
But we also have a list of everyone from the Artisan Design Team, so that you can easily click the corresponding blog posts.
Und damit ihr auch sehen könnt, dass es sich lohnt von Blog zu Blog zu hüpfen, haben wir auch noch eine Übersicht für euch. Also ab zum Hop :)
You can see that it's worth jumping from blog to blog. So off to the hop :)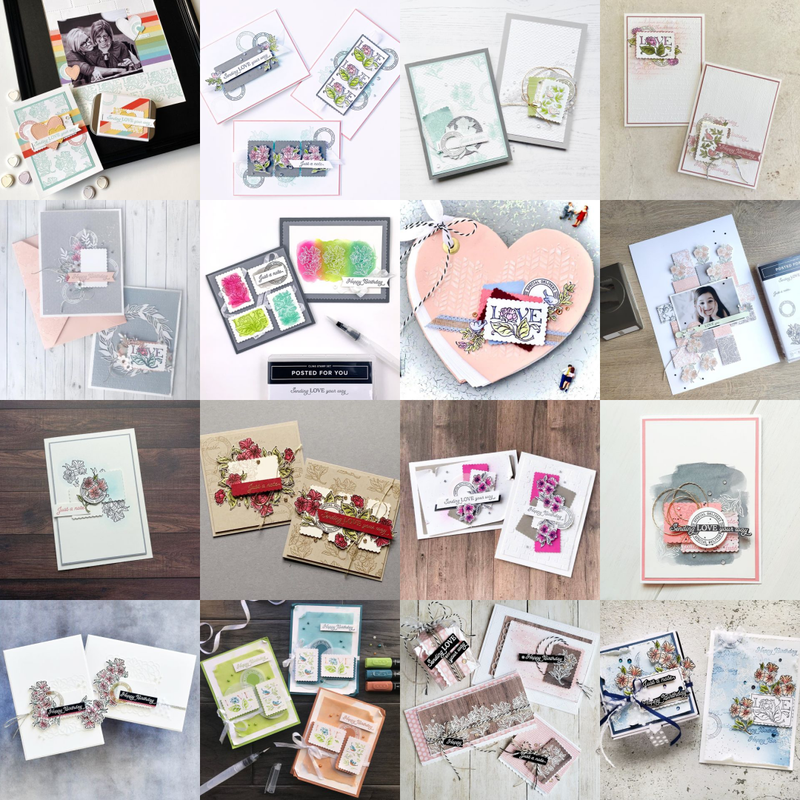 Wenn ihr aus Deutschland kommt würde ich mich sehr freuen, wenn ihr mich als eure Demonstratorin wählen würdet um euch direkt diese tollen Produkte zu sichern und zu bestellen. Nutzt gerne das Bestellformular.
Aber wo eine Reise endet, fängt auch eine neue Reise an. Deswegen freue ich mich auf die vielen neuen talentierten Demonstratoren aus aller Welt die euch durch das Jahr 2021 begleiten werden. Sie sind einfach grandios. Deswegen schaut doch gerne auf ihren Blogs und bei Instagram vorbei und folgt ihnen.
But where one journey ends, a new journey begins. That's why I'm looking forward to the many new talented demonstrators from all over the world who will accompany you through 2021. They are simply amazing. So feel free to check out their blogs and Instagram and follow them.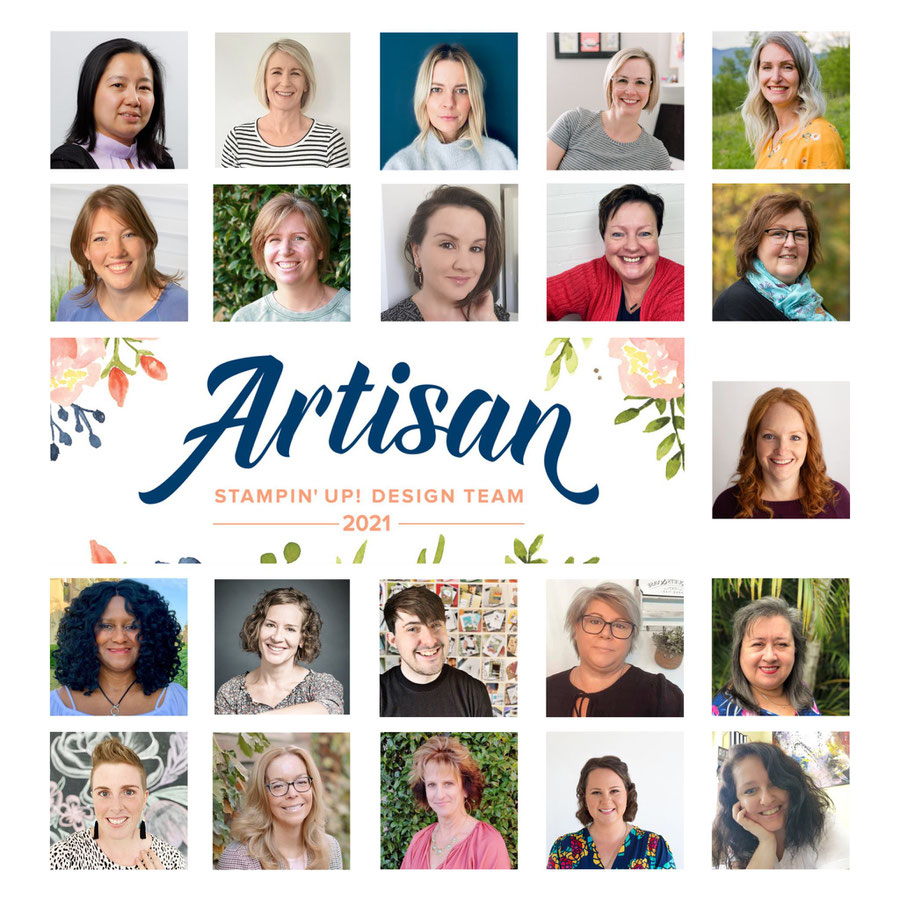 Es war mir eine große Ehre Teil des Design Teams zu sein und ich freue mich wenn ihr mich auch weiterhin auf meiner kreativen Reise begleitet.
It has been a great honor to be part of the design team and I look forward to you continuing to join me on my creative journey.
Enjoy your day and lovely greeting,
Martha