---
Willkommen auf meinem Blog und zu einer kleinen kreativen Reise rund um die Produktreihe Mohnblütenzauber (153940). Für mich sind die Mohnblüten von Anfang an meine Lieblinge gewesen. So habe ich mich besonders gefreut, dass wir euch hier auch beim Artisan Blog Hop vier kreative Ideen zeigen können.
Welcome to my blog and to a creative journey around the Peaceful Poppies Suite (153938). For me the poppies have been my favorites from the beginning. So I was especially happy that we can show you four creative ideas here at the Artisan Blog Hop.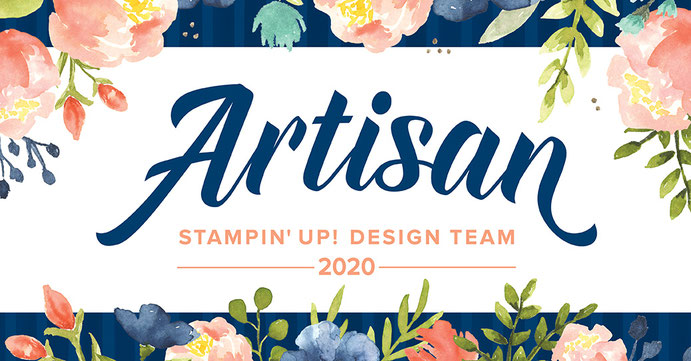 Von Anfang an wusste ich auch, dass ich euch gerne ein Layout und eine Verpackung zeigen möchte.
Layouts sind immer schön um Erinnerungen festzuhalten. So habe ich ein Foto von einem meiner Ausflüge ausgewählt. Letztes Jahr haben Kerstin und ich Steffi besucht und da passen die Mohnblumen dazu. Schließlich waren wir auch im August unterwegs.
From the beginning I knew that I would like to show you a layout and a box.
Layouts are always nice to capture memories. So I chose a photo from one of my trips. Last year Kerstin and I visited Steffi and poppies match perfectly. After all, we were also on the road in August.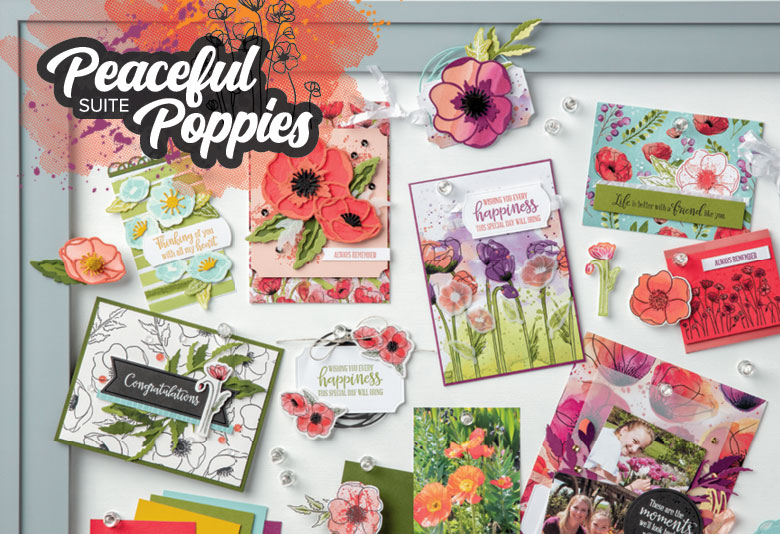 Für den Hintergrund habe ich ein Stück Folie genommen und mit dem Stempelkissen Farbe auf die Folie aufgetragen. Ihr befeuchtet dann die Folien und könnt so die flüssige Farbe auf das Papier bringen. So wird jeder Hintergrund immer anders. Um den Effekt noch zu verstärken habe ich den Splash-Stempel verwendet um Highlights zu setzen.
Designerpapier seht ihr geschnitten in der Mitte und gerissen am oberen Rand. Die Blüten habe ich aus dem Accessoireset koloriert.
For the background I used a piece of foil and applied ink to the foil with the ink pad. Then you moisten the foil and can bring the liquid ink on the paper. So every background is always different. To intensify the effect I used the splash stamp to set highlights.
You can see designer paper cut in the middle and torn at the top. The blossoms are colored from the accessory set.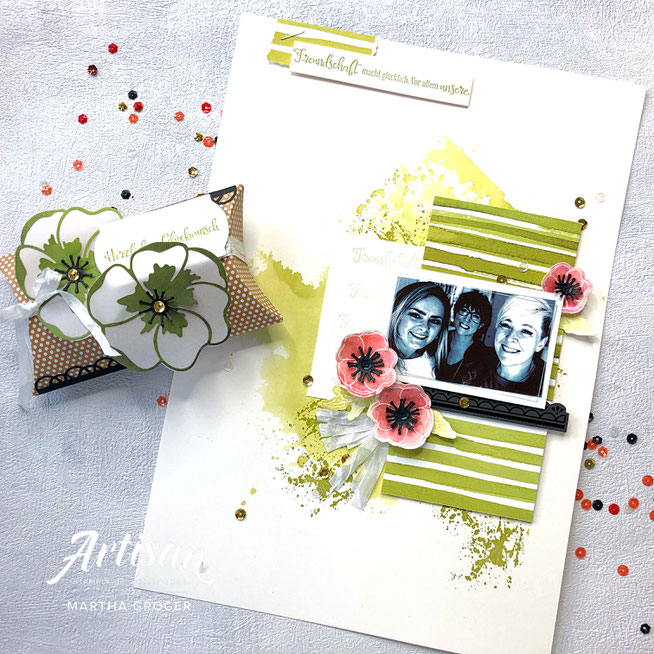 Bei der Verpackung habe ich das Designerpapier und Vellum gestanzt. Genauso bin ich auch bei der Bordüre vorgegangen. Und die Pailletten sind das Highlight auf jedem Projekt.
For the packaging I punched the designer paper and vellum. I did the same with the border. And the sequins are the highlight on every project.
Ich bin mir sicher, ihr wollt auch all die anderen neuen Produkte sehen und was die andern Design Team Mitglieder gebastelt haben. Dabei kann ich euch jetzt schon versprechen, dass die Projekte einfach "amazing" sind. Am besten ihr klickt direkt auf den Button um zum Beitrag von Martin Stone zu gelangen.
I'm sure you also want to see all the other new products and what the other design team members have made. I can promise you right now that the projects are simply amazing. Just click on the button to go directly to Martin Stone's blog post.
Wir haben aber auch eine Liste mit allen aus dem Artisan Design Team, so dass ihr auch hier einfach zu den jeweiligen Blogbeiträgen gelangt.
But we also have a list of everyone from the Artisan Design Team, so that you can easily click the corresponding blog posts.
Und damit ihr auch sehen könnt, dass es sich lohnt von Blog zu Blog zu hüpfen, haben wir auch noch eine Übersicht für euch. Also ab zum Hop :)
You can see that it's worth jumping from blog to blog. So off to the hop :)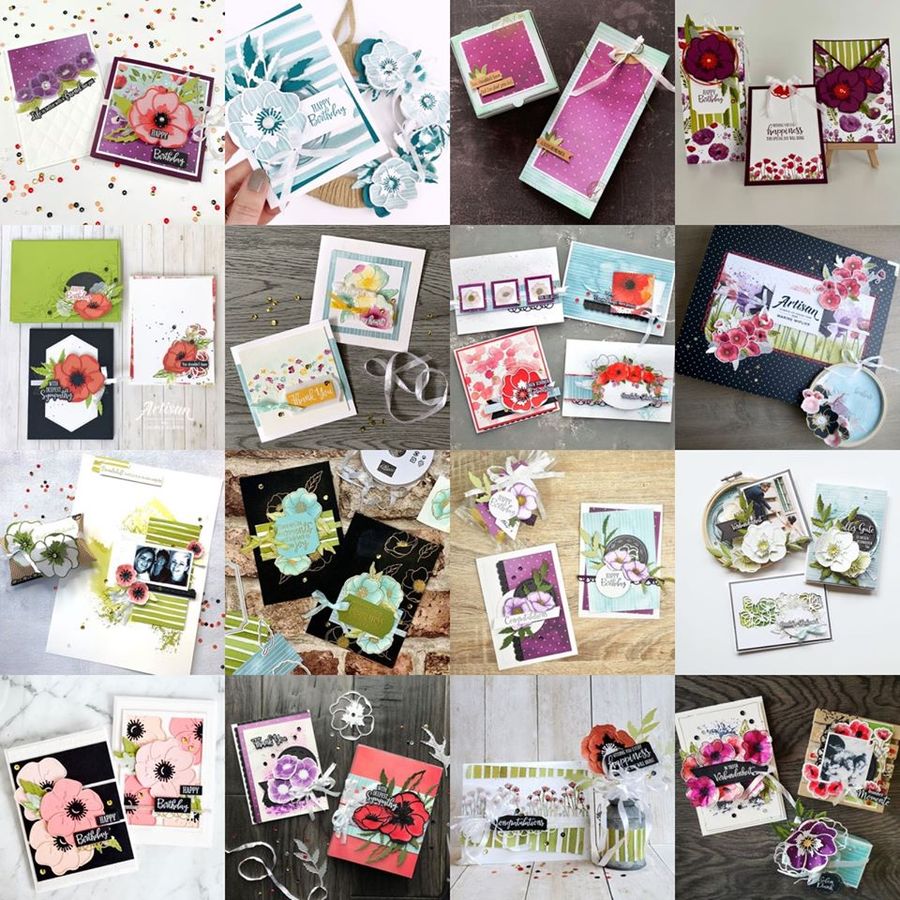 Für meine Projekte habe ich folgenden Produkte verwendet:
Produktreihe Mohnblütenzauber (153940), Farbkarton Pergament (106584), Farbkarton A4 Flüsterweiß (106549), Stempelkissen Olivgrün (147090), Aquapainter (103954), Aquarellstifte (141709)
I have used the following products for my projects:
Peaceful Poppies Suite (153938), Vellum Cardstock (101856), White Cardstock (100730), Old Olive Classic Stampin' Pad (147090), Kraft Pillow Boxes (147018), Aqua Painters (103954), Watercolor Pencils (141709) 
Genießt den Tag und viele liebe Grüße,
Enjoy your day and lovely greeting,
Martha